Episode #9  Email Marketing - How To Build An Email Marketing Sequence
Welcome to the New Digital Mentor Podcast hosted by Alan Hennessy. Your weekly insights into the world of Digital Marketing and Social Media. This podcast is here to help you navigate the Digital Landscape and share tips and tricks you can implement into your business on a daily basis
In this week's episode, Alan talks about Email Marketing and how to build an email marketing sequence
In this week's episode of the podcast, Alan talks about Email Marketing and how to build an email marketing sequence.
Some of the Topics discussed include:
The Power of Email Marketing
The 12-step process of building an Email Marketing Sequence
Explanation of how to structure the email sequence
Email Marketing Platforms
Links to Email Marketing Platforms
MailChimp: https://mailchimp.com/
Brevo (Formerly Sendin Blue): https://www.brevo.com/
GDPR Expert: https://www.linkedin.com/in/eileenirelandgdpr/
Diagram of Email Marketing Sequence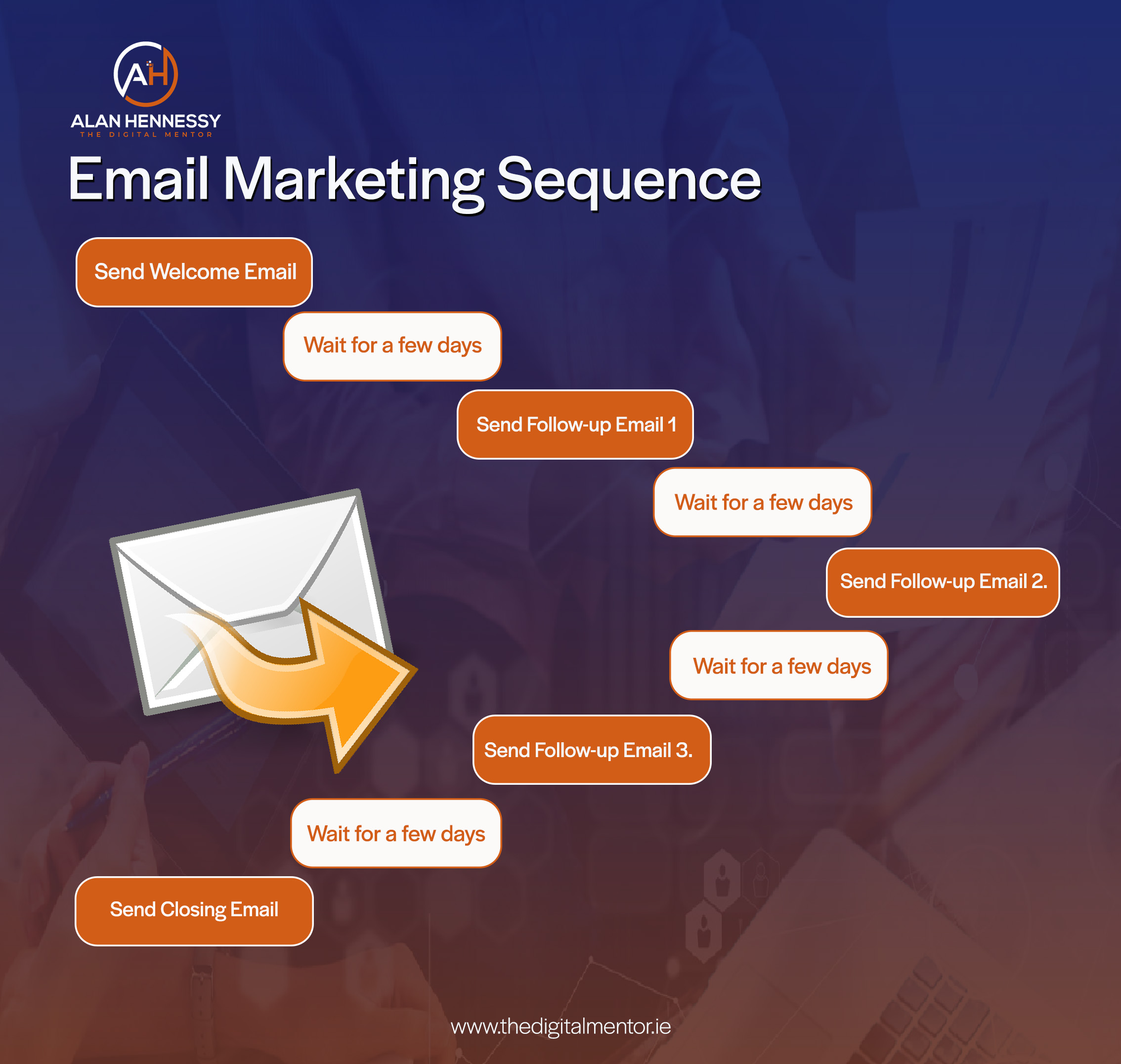 Subscribe to the podcast so you never miss an episode on Apple Podcasts and Follow on Spotify
So tune in to the show today and start reaping the benefits!
So we do hope you will join us on a weekly basis and pick up a few tips along the way.
You can find all the episodes of this podcast on our main podcast page just click on the episode you would like to listen to.
You can subscribe to the podcast on Spotify by clicking on the follow button, so you never miss an episode.
I look forward to your company and your interaction with the podcast over the coming months, make sure to comment and share this with your colleagues and friends that may find this podcast interesting to them.
Press Play on the latest episode to listen back and enjoy.

Alan Hennessy - The Digital Mentor is one of Ireland's Leading Social Media Experts. He is also a Social Media Consultant and Trainer and speaks about Social Media & Digital Marketing all over Ireland and in the UK. The Social Media Talks podcast is among the top marketing podcasts in the world. Contact Alan to have him speak at your company event or conference soon.
Follow Alan on Social Media, Twitter, Facebook, Instagram, and YouTube
For more details on Alan's Digital Mentorship programmes click here or choose from a wide range of Digital Marketing Training courses click here
New Book: Solving The Digital Marketing Jigsaw Puzzle - Now Available
My new book is a detailed guide to building your digital marketing strategies to enable you to navigate the digital landscape. Buy it now on Amazon at https://www.amazon.com/Solving-Digital-Marketing-Jigsaw-Puzzle-ebook
For more details about the book click here