Proven Tips for Enhancing Digital Marketing Engagement on Social Media
Proven Tips for Enhancing Digital Marketing Engagement on Social Media: Gaining Social Proof and Social Currency
In this edition of The Digital Mentor Newsletter, I want to highlight the importance of social proof, social currency, and innovative strategies to enhance digital engagement.
What is Social Proof and Social Currency?
Before diving deep, let's understand these two buzzwords. Social Proof is a psychological phenomenon where people conform to the actions of others, under the assumption that those actions reflect correct behavior. In digital marketing, it's the positive influence created when someone finds out that others are doing something.
In contrast, Social Currency is the extent to which people share the brand or information about the brand as part of their everyday social lives. Having social currency means your customers are talking about your brand, thus increasing your brand's search engine rankings.
Proven Tips for Enhancing Digital Marketing Engagement
1. User-Generated Content (UGC): UGC fosters trust and credibility. Encourage your followers to share their experiences with your products or services on their social feeds. With every share, you expand your reach and strengthen social proof.
2. Influencer Marketing: Collaborating with influencers within your industry can provide significant social proof. An influencer's endorsement acts as a testimonial and can drive traffic and increase brand visibility.
3. Ratings and Reviews: Encourage customers to leave ratings and reviews. Positive reviews convey a strong message to prospective customers, aiding their purchase decisions.
4. Leveraging Social Currency: To improve social currency, create engaging, unique, and valuable content that followers would be proud to share. For instance, consider producing high-quality blogs, infographics, or 'how-to' videos related to your industry.
Digital Engagement Strategy Plan of Action
Engaging with your target audience through digital channels is crucial to ensure customer loyalty and brand growth. Below are the components of an ideal digital engagement strategy alongside actionable tips.
1. Define Your Goals and KPIs: Clear objectives guide your strategy. Do you want increased brand visibility, more leads, customer retention, or sales? Each goal will require a unique approach and Key Performance Indicators (KPIs) to measure progress.
2. Know Your Audience: Identify who your audience is, what they want, and how they interact online. Building buyer personas and conducting market research can offer valuable insights.
3. Content is King: Tailor your content to the needs of your audience and the nature of the channel. Informative blogs work well on your website, captivating visuals on Instagram, professional updates on LinkedIn, and timely interactions on Twitter.
4. Social Media Management Tools: Leveraging tools like Buffer, Hootsuite, and Sprout Social can streamline your social media management, helping you schedule posts, track engagement metrics, and manage multiple social accounts in one place.
5. Engage, Engage, Engage: Respond promptly to messages, comments, and queries on your digital channels. Engage your audience with polls, quizzes, webinars, and live videos.
6. Email Marketing: Send personalized emails to your subscribers with compelling subject lines and valuable content. Use automation tools for timeliness and consistency.
7. Track, Measure, Optimize: Use analytical tools to track and evaluate your digital engagement performance and make data-backed decisions to optimize your engagement strategies.
Final Thoughts - Wrapping Up
In our digital age, businesses can soar or sink based on their online presence and engagement. With the right strategies for social proof and social currency, the potential for growth is tremendous. Understanding your audience, using engaging content, adopting the right tools, and optimizing performance can elevate your digital presence, engagement, and profitability.
Master the art of digital engagement, understand its facets, plan, implement, and reap the rewards! Remember, consistency is key in engaging with your audience effectively.
Happy Marketing!
If you would like to chat in more detail about any of the points covered in this edition.
Please get in contact with me, DM on LinkedIn or email me at alan@thedigitalmentor.ie
Visit my website for more information on my Digital Mentorship Programmes or Training at www.thedigitalmentor.ie
You can also check out my podcast available on the website or on Spotify and Apple Podcasts, just share for The Digital Mentor Podcast.
#DigitalMarketing #DigitalMentorship #SocialProof #SocialCurrency
If you would like to learn more or want to have a chat, please get in contact with me at alan@thedigitalmentor.ie
Click on the link to find a time that suits you to schedule a call: Free 30-Minute Consultation
Alan Hennessy - The Digital Mentor is one of Ireland's Leading Social Media Experts. He is also a Social Media Consultant and Trainer and speaks about Social Media & Digital Marketing all over Ireland and in the UK. The Social Media Talks podcast is among the top marketing podcasts in the world. Contact Alan to have him speak at your company event or conference soon.
For more details on Alan's Digital Mentorship programmes click here or choose from a wide range of Digital Marketing Training courses click here
New Book: Solving The Digital Marketing Jigsaw Puzzle - Now Available
My new book is a detailed guide to building your digital marketing strategies to enable you to navigate the digital landscape. Buy it now on Amazon at https://www.amazon.com/Solving-Digital-Marketing-Jigsaw-Puzzle-ebook
For more details about the book click here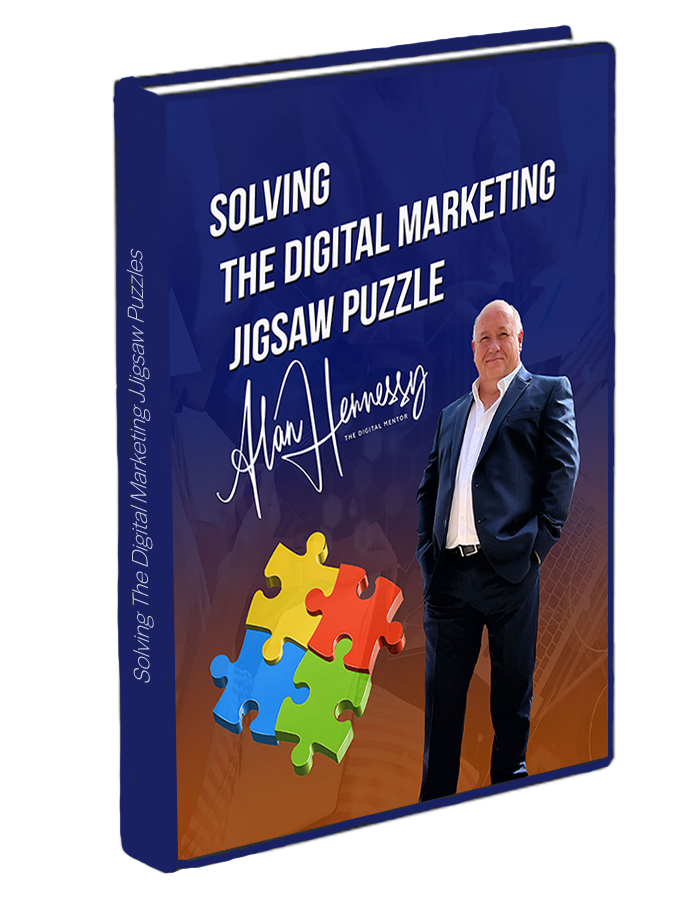 The Social Media Talks Podcast
To listen to our weekly Podcast, Click on this link Social Media Talks Podcasts 
Subscribe to the Podcast on your preferred Podcast Provider, so you never miss an episode.
Find out where you can subscribe on our sister site website Kompass Media  Podcast Page