Weekly One Hour Zoom Webinar, focusing on One Digital Marketing Tool.
Day: Tuesday Morning
Time: 10am - 11am
Place: Zoom Webinar
Finding the right Digital Marketing tools can help you to become more efficient online. Sofware and online tools can be a game-changer and when you see how simple it can be to create content, develop graphics, and schedule your posts, you will wonder how you did not know about these tools until now.
Over the past 10 years, I have found some incredible Online resources and tools that I use on a daily basis. The time that it has freed up for me, to concentrate on other aspects of my business has vastly improved my productivity, plus given my content a more professional look and feel.
Now it is time to share these fantastic resources with you!
I have developed a new programme where every week I will showcase one of these tools and share insights on how to use the tool and some of the cool features and benefits you can develop from using these tools. I will be covering a cross-section of different software and web-based tools that you can start to immediately implement into your business straight away. I will also offer online support for 2 weeks if you have any questions or concerns that you would like further advice on.
Some of the types of Resources I will over in these Zoom Sessions include:
Graphics Tools
Content Curations and Creation Tools
Video Production Tools
Video Creation Tools
Scheduling Tools
Email Marketing Tools
Research Tools
Audio Production Tools
Web-Based Online Resources
Content Management Tools
Free Resources Tools
Visual Mock-Up Tools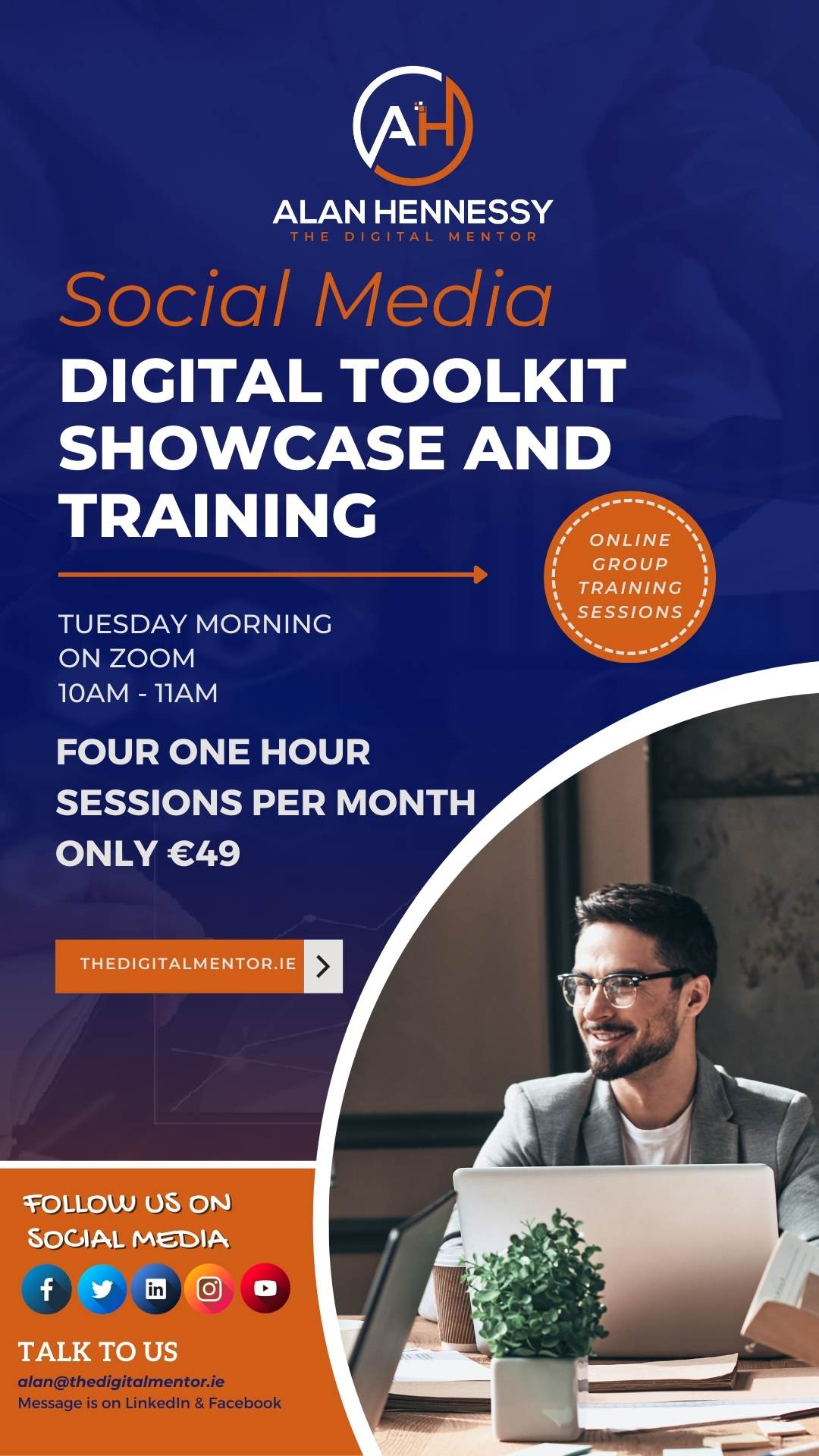 As you can imagine over the past number of years software and online tools have grown and developed at lightning speed. I will be sharing the latest versions of the tools and showing you quick demos on how to use them. You will also receive Bonus content if you would like to join my Digital Academy.
The Digital Toolkit Course runs on a 4-week basis and takes place every Tuesday Morning for 1 hour from 10 am - 11 am in a group format. You also have the opportunity to network and learn at the same time. If you cannot make the morning sessions they will be recorded and made available to watch at a time of your choice.
The cost per month is just €49, which is cheaper than an average meal out! If you like what you learn in the first month, you can book 3 multiple months at a reduced cost which works out better in the long run for you. Plus you will also gain access to a private Facebook and Volley Group as well. I hear you ask what is Volley?  It is a brand new platform and one you learn more about on my Digital Toolkit Course.
Register Today!
Book your place and start to learn more about the Digital Toolkit you can have at your disposal and start creating hassle-free, easy to use online resources today.
Please are limited, so don't delay, book today.
I look forward to sharing some of the excellent tools I use to help you navigate the Digital Landscape.
Fill in your details in the form here and let's get started.
Alan