The Digital Mentor Podcast with Alan Hennessy
 This podcast is here to Help You Navigate The Digital Landscape. Alan will share Digital Marketing Strategies and tips to help you develop your presence digitally from Social Media Marketing to building and retaining your audience online.
The Digital Mentor Podcast is a weekly podcast that provides listeners with actionable tips, strategies, and insights to help them navigate the digital world. Each episode features insights, tips and tricks and knowledge on topics such as digital marketing, social media, website design, and e-commerce. Whether you're a business owner, marketer, or just someone looking to improve your digital skills, the Digital Mentor Podcast has something for everyone. This podcast is available on all major podcast platforms and here on my website.
The Digital Mentor Podcast is an invaluable resource for business owners and new digital marketers who are looking to stay ahead of the curve in today's ever-evolving digital landscape.

Here are just a few of the benefits of tuning in to the show:
➡️ Stay up-to-date with the latest digital trends: The Digital Mentor Podcast keeps you informed on the latest trends and developments in digital marketing, so you can stay ahead of the competition and make informed decisions for your business.
➡️ Get practical advice and tips: The Digital Mentor Podcast provides actionable tips and advice that you can use to improve your digital marketing efforts and drive more results for your business.
➡️ Gain a competitive edge: With the help of the Digital Mentor Podcast, you'll be able to stay ahead of the curve and gain a competitive edge in your industry, which can lead to more leads, sales, and revenue for your business.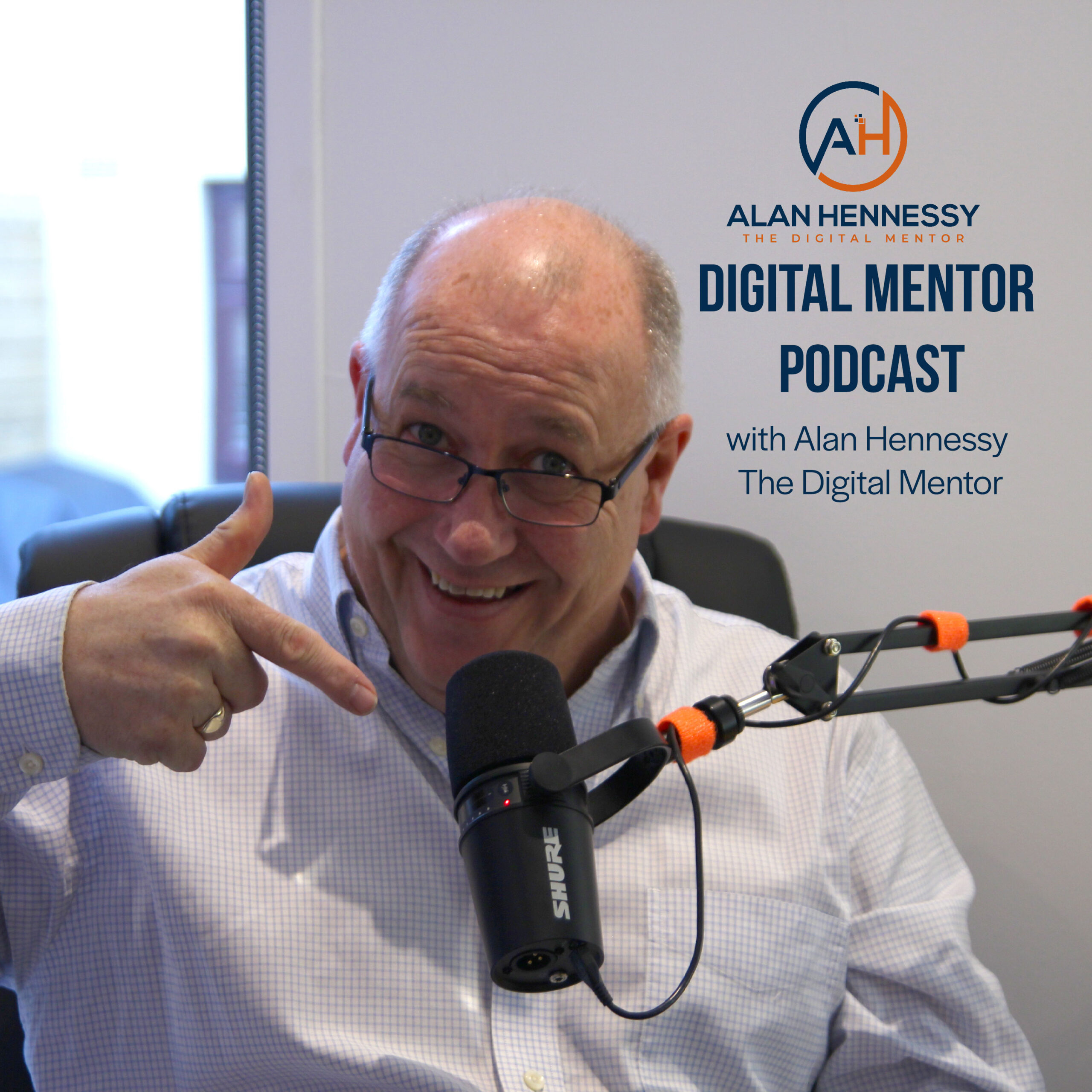 Whether you're just getting started with digital marketing or you're a seasoned pro looking to take your efforts to the next level, The Digital Mentor Podcast is a must-listen for anyone looking to improve their digital marketing skills and grow their business. So tune in to the show today and start reaping the benefits!
Click on the image to listen to any of the podcast episodes and enjoy

The Digital Mentor Podcast - Latest Episodes

Alan Hennessy - The Digital Mentor Bio
My areas of expertise are Digital Marketing Planning and Strategies for small businesses. Social Media Training on LinkedIn, Facebook, and Twitter teaches how to use social media to promote personal branding, profile individuals and businesses plus protect your online reputation on these networks.
As part of my role, I oversee the support of businesses through innovative website design, strategies and implementation, offering new and exciting concepts as part of a strategic business and marketing plan online and offline.
A passionate professional, with an excellent understanding of delivering customer satisfaction and professionalism with strong business acumen ensuring the highest standard of service to all clients and delivering value for the customer.
Specialities:
1. Digital Mentorship Programmes
2. Digital and Content Marketing
3. Social Media Consultancy and Management
4. Social Media Training
5. Podcasting
6. Website Consultancy
7. Digital Event Planning & Management
8. Communication
9. Professional Speaker
10. Online Reputation
Can I help or assist you with marketing your business online or through Social Media Training?
Contacts: M: +353 86 8459960, Email: alan@thedigitalmentor.ie